The AutARK project is funded by the German Federal Ministry of Labor, Social Affairs, and Consumer Protection (BMAS) and is a research project at the Chair of Human-Computer Interaction at the Technical University of Dresden. It runs for 3 years starting on 01.01.2023 with four researchers overall.
The aim of the AutARK project is to improve and maintain the employability in the primary labor market of people on the autism spectrum by developing technical assistance systems for their everyday work. For this purpose, a special active noise cancellation method will be implemented, for example, to detect the context of a specific conversation and to adaptively filter out irrelevant signals. In addition, the aim is to support people with autism according to their needs in verbal conversational settings with the help of wearable devices. Moreover, haptic, natural interaction modalities will be used to improve task and schedule planning, thus enabling low-disruption and structured work. The AutARK project aims at the human-centered development of a pilot system that will use AI-based technical approaches to be field-tested by autistic people in their everyday work.
On this page you will find more detailed information about the research project, which is divided into the following sections:
Target group: People on the autism spectrum
The focus of the project is on people on the autism spectrum who are seeking work or are unemployable despite good education or a school education and would like to work in the primary labor market. This also includes people who are in training or further education or would like to complete such training in order to be able to work in the general labor market. The project and its effects are intended to enable job-seekers to find employment in the primary labor market according to their needs. The project outcomes should also benefit employees on the autism spectrum by enabling them to maintain their employment and job satisfaction through employment conditions that meet their needs.
The objective is to better integrate the described target group into the primary labor market, whose working environments and conditions rarely reflect the needs of autistic people. Furthermore, employers and all employees who currently or in the future work with people on the autism spectrum should be addressed. They benefit from improved collaboration, which leads to greater acceptance and positive interaction with autistic people in the workplace and the productive use of their skills.
Vocational training centers and federal associations, such as the German Autism Association, can also benefit from the results, as they can use the project's findings to provide better guidance and support for people on the autism spectrum.
Problem description
At least one-third of people on the autism spectrum who are capable of working are unemployed. While many approaches and projects address the integration of people on the autism spectrum on the 2nd labor market or work in protected workplaces, people with high-functioning autism in particular often feel inadequately challenged there. In addition, not all of these workplaces meet the needs of people on the autism spectrum. Although there are special centers for autistic people, these are very stigmatizing, especially for people who are able to work, and can even be a barrier to employment in the general labor market. The majority of autistic people (65%) are continuously employed in specialized workplaces (source: BAG WfbM). It is estimated that only 5% to 12% of people on the autism spectrum who are capable of employment have a permanent job in the 1st labor market1. However, high-functioning persons on the autism spectrum often seek employment in the 1st labor market (source: LVR – Integration Office).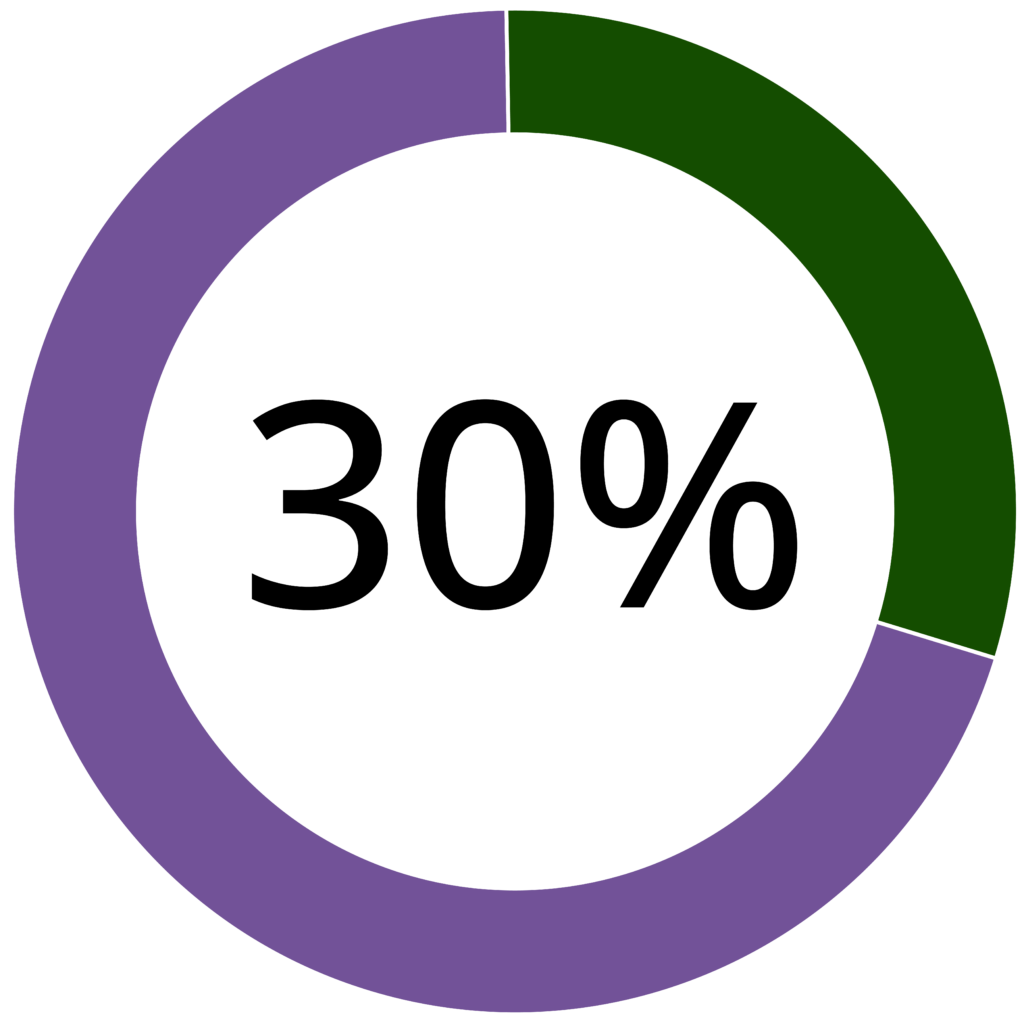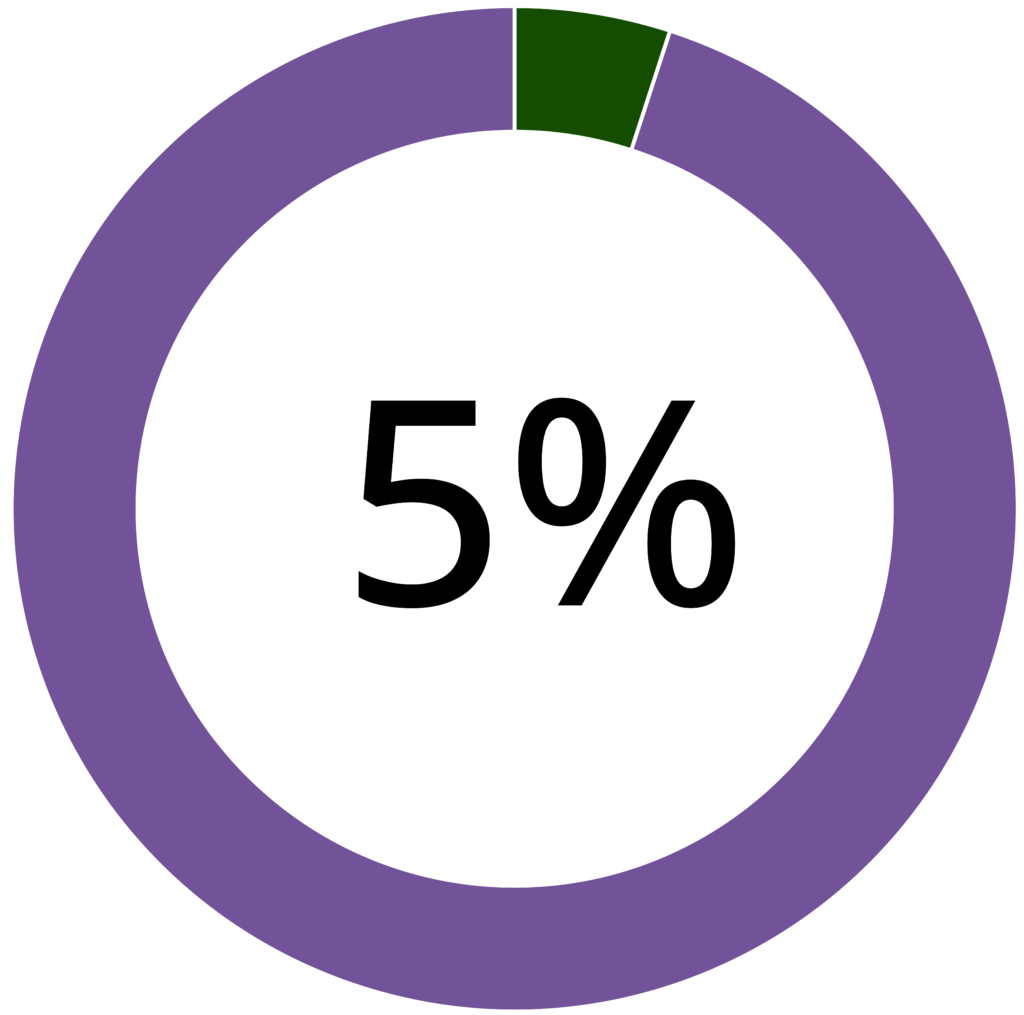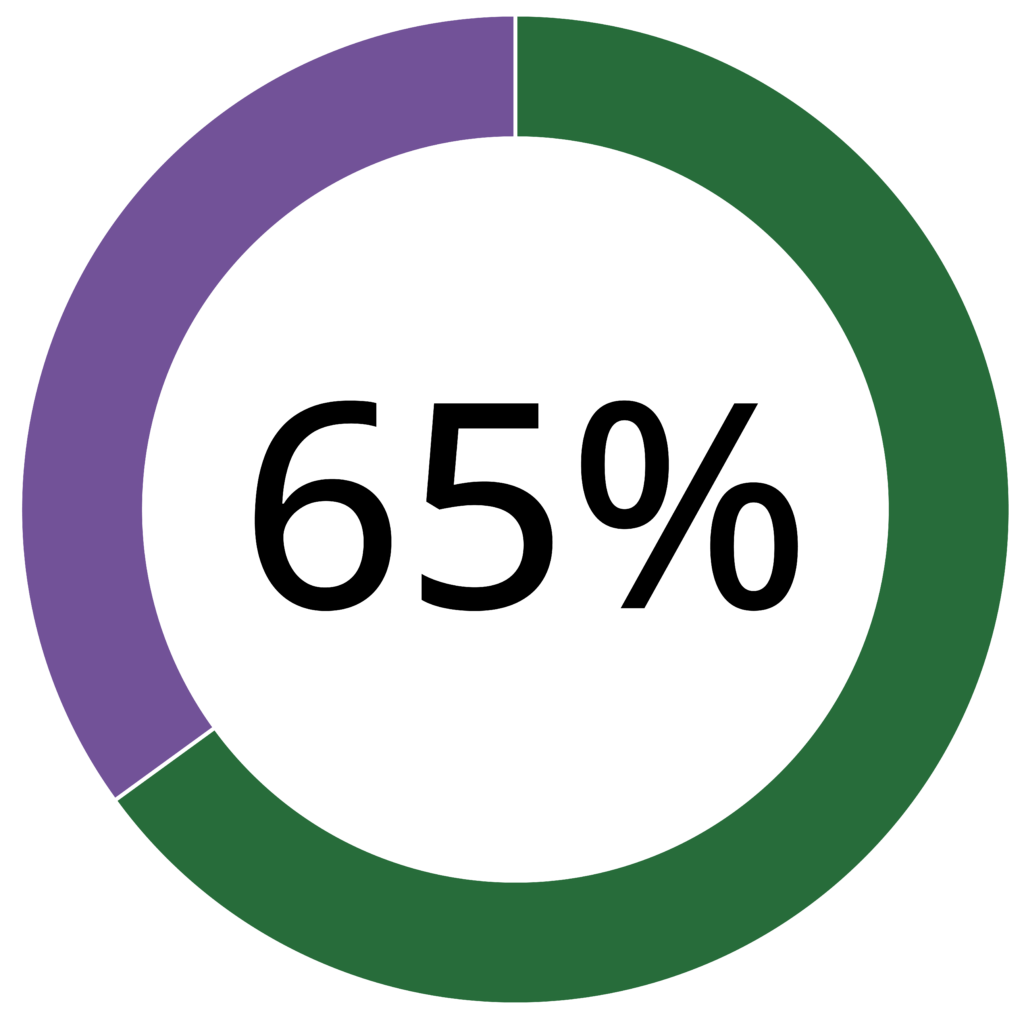 Source: Autismus Spektrum Portal
Challenges often arise due to a lack of supervision, inappropriate workplace environments, and high demands. Challenging work conditions are external factors that prevent integration into the general labor market, such as time pressure, information overload, high communication demands, many sensory stimuli, and the need for a high degree of flexibility. This makes it difficult for autistic people to achieve financial independence. Therefore, in order to ensure equal participation of autistic people, appropriate measures and precautions must be taken in the workplace to encourage employment opportunities for autistic people in the general labor market.
So far, there is a lack of specific, appropriate, adaptable, and context-sensitive assistive technologies that support particular tasks and time management, the reduction of stressors and external factors as well as social communication in everyday work.
Source:
1 Dalferth, M. (2017): Zur Beschäftigungssituation von Menschen aus dem autistischen Spektrum in Deutschland und in westlichen Gesellschaften. In: Autismus, 83, S. 35–38.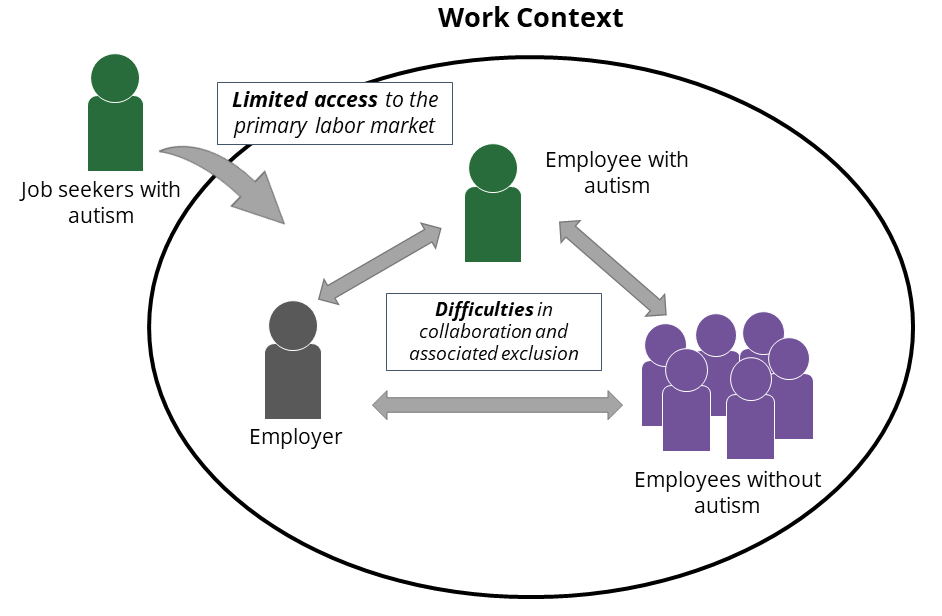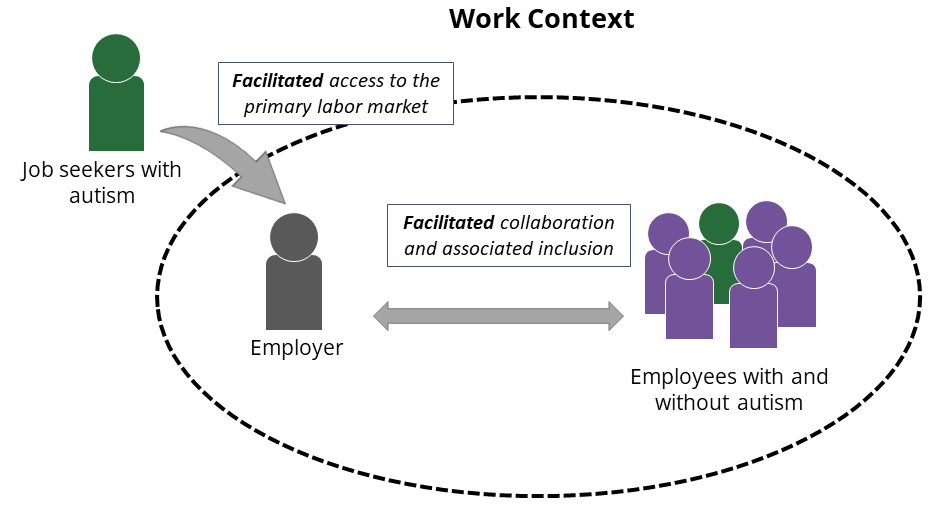 Objectives
The goal is to improve the work conditions for people on the autism spectrum and, as a consequence, to increase the number of autistic persons employed in the general labor market. In addition, the independence of autistic people in everyday work should be increased through the use of specialized applications. This can increase the motivation of employers to engage people on the autism spectrum.
The aim of the project is first to identify how autistic people can be supported with technical assistance systems at work to their benefit, which modalities cause the fewest distractions, and are therefore suitable for this target group. In this context, the project not only wants to sensibilize stakeholders (e.g. employers, colleagues, employment centers) for the employment and needs of autistic people in the work environment but also show by means of a pilot workplace how autistic people can be successfully integrated into work structures. The project analyzes general requirements for the use of technical systems in the work context. These findings can be used for further technical developments in this area.
In addition, possible solutions for people on the autism spectrum will be demonstrated by developing and evaluating technical assistance systems for specific use cases in co-design with the target group and stakeholders.
The following topics are addressed in the project (see the following figure):
Stimulus reduction: Reduction of stimuli to avoid overstimulation
Communication: Support of verbal and textual communication
Task management: Support of structuring and prioritizing in task and time management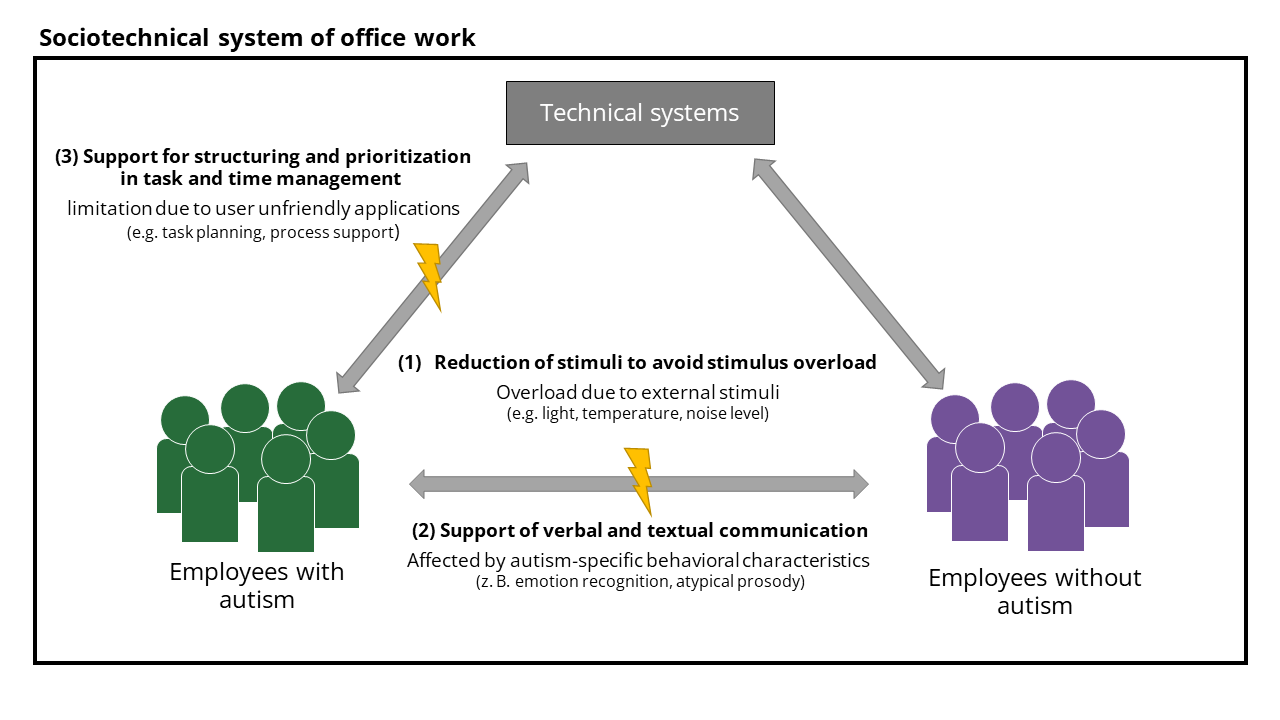 Envisaged Solution
In this project, a human-centered development process will be used to implement technical assistance systems in combination with wearables (computers carried on the body) to support autistic persons in the workplace in accordance with the above-mentioned sub-goals. The resulting implementations will be evaluated by means of a pilot workstation and their positive effect will be verified as well as possible further challenges will be discussed.
At the beginning of the AutARK project, requirements and challenges in communication and computer work in the work context will be collected in cooperation with people on the autism spectrum and other stakeholders (e.g. employers, colleagues) using scientific methods. This will result in a comprehensive catalog of requirements that will provide the basis for the development of the intended support systems and can also be used for the development of further solutions by others.
Support for communication and stimulus reduction
Especially conversational situations with several participants or background noise are usually very challenging for autistic people. The reduction of these distractions in verbal, synchronous conversational situations (e.g., meetings, dialogs) is supported by a system consisting of data glasses and special mobile devices, so-called wearables (e.g., smartphone or smartwatch, see figure).
The data glasses enable the identification of conversation participants and provide information not only about the person but also about social aspects (e.g. type of address, name, degree of familiarity), depending on the current context. In addition, an adaptive filter will be developed that uses active noise cancellation (ANC) to filter out irrelevant noise based on the current conversational and environmental situation, thus enabling the user to concentrate on the content of the conversation.
The expected result is a pilot system that supports verbal communication on three essential levels: 1. reduction of distracting noises enables focus on the conversational situation. 2. support system in understanding social rules as well as linguistic characteristics. 3. support in recognizing and identifying people in the work environment.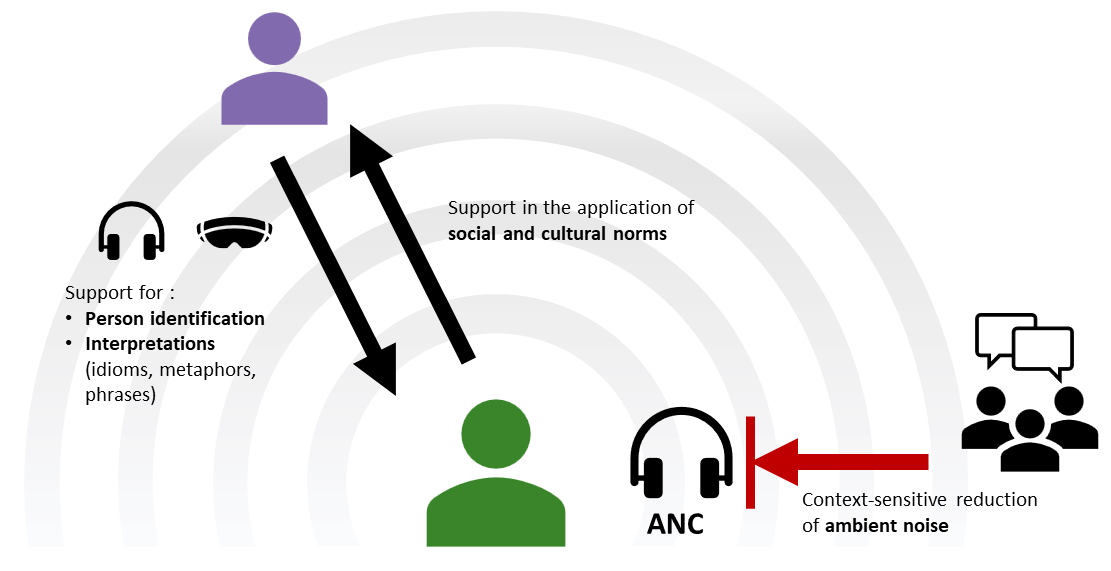 Support with task and schedule management
Conventional systems for task planning and structuring are often overwhelming for persons on the autism spectrum. Therefore, an adaptive, interactive system will be developed in the AutARK project that supports task management in accordance with the needs of autistic people (see figure). Time management will be facilitated depending on the current state and context in relation to the daily schedule. Established planning methods and frameworks, such as Scrum, will be supported. The specification of a planning structure is intended to simplify this process. The accomplishment of tasks will be supported by context-sensitive reminders.
A natural interaction concept will be realized with tangibles (physical interaction objects, e.g., interactive cubes) and voice interaction, enabling low-disrupting notifications. Tangibles will be used for interacting with the task management system, and beyond that as a communication and collaboration tool, and are intended to support inclusive teamwork. They can inform colleagues about the internal status, e.g. whether interruptions are unwanted or help is needed (e.g. via colors, position, and location of the tangibles). In the project, various interactive tangibles will be developed and tested using 3D printing and electronic components. This will be integrated into existing workflows in such a way that a natural interaction with a low level of distraction can be achieved for planning and structuring tasks. Additionally, the work progress of the processed tasks will be represented with tangibles and linked to the structured daily schedule.